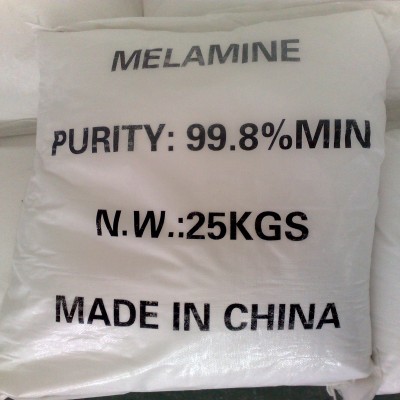 Superor quality Melamine powder
1.Charaters
CAS NO :108-78-1
Byname: Melamine
EINECS No.:203-615-4
Appearance :White powder
HS Code:2933610000
Molecular Formula : C3H8N6
Molecular Weight :998
2.Properties:
Melamine powder is non-toxic and odorless crystalline powder, which can dissolve in glyceline,
pyridine,heat ethylene glycol, acetic acid and formaldehyde.It is difficult
soluble in the ether, benzene and tetrachloromethane.It will sublimate
when heated, heated slongly it will decomposite.
3.Uses:melamine powder is mainly used for manufacturing melamine
oformal dehyde resin, which is well water, heat and arc resistant and
bright. It can also be used in decorative laminates, aminoplastics,
adhesive agents, coatings and used as a paper reinforcing agent,
textile auxiliaries, cement water-reducing .
4.Packing : 25kg ,500kg and 1000kg /pp bag ,shipping marks can
be advised.