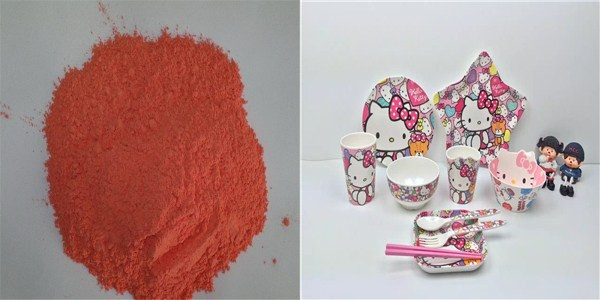 Melamine moulding compound(powder)
1,For making Melamine tableware
2,Pure Melamine Food grade
3,Unlimited colors

Melamine moulding compound
· E.U Food Standard
· Pression Moulding Temperature:165-185 °c
· Curing time:35-50'S Flowing rate:194
· Color : Unlimited range of colors
· Compression moulding powder
· 20/25kg Paper bag with inner waterproof PE film
· Min Order Quantity : 5 MT per color
· Delivery lead time :15 days
Advantage :
1,Melamine moulding compound finished item with surface hardness .
2,Molded parts have excellent resistance to abrasion, boiling water, detergents, weak acids ,
3,Moulded articles are specifically approved for food contact.
Physical property :
Melamine moulding compound are basedon melamine-formaldehyde resins fortified with high-class celluloseas reinforcement and further modified with minor amounts of specialpurpose additives, pigments, cure regulators andlubricants.
Storage:
To avoid moisture caking, storage time should be placed away from the hot and humid environment,
generally at 30 degrees to 50% relative humidity storage conditions,
our products can be maintained around a one-year period.
CERIFICATE OF ANALYSIS
| | | | | |
| --- | --- | --- | --- | --- |
| 1 | Gravity | D2525,≤ | 1.6 | GB1033 |
| 2 | Specific volume | ml/g≤ | 3 | |
| 3 | Volatile matter | %,≤ | 3.8 | GB/T13455 |
| 4 | Water absorb (cold) / (hot) | mg,≤ | 50/65 | GB1034 |
| 5 | Shrinkage | % | 0.65 | GB13454 |
| 6 | Distortion temperature | °O,≥ | 155 | GB1634 |
| 7 | Flowing | mm | 194 | GB13454 |
| 8 | Impact Strength(notch) | KJ/m2,≥ | 1.9 | GB1043 |
| 9 | Bending Strength | Mpa,≥ | 80 | GB9341 |
| 10 | Insulation Resistance after 24h in water | MΩ≥ | 105 | GB1410 |
| 11 | Dielectric strength | MV/m,≥ | 9.0 | GB1408 |
, none; PADDING-BOTTOM: 0pt; PADDING-LEFT: 5.4pt; WIDTH: 225.35pt; PADDING-RIGHT: 5.4pt; PADDING-TOP: 0pt; mso-border-left-alt: none; mso-border-right-alt: 0.7500pt inset rgb(0,0,0); mso-border-top-alt: 0.7500pt inset rgb(0,0,0); mso-border-bottom-alt: 0.7500pt inset rgb(0,0,0); BACKGR: rgb(255,255,255)" vAlign="middle" width="300">

Bending Strength